A U.S. soldier captured by the Taliban on June 30, 2009 has turned up in a video in which he claims the date is June 14th. The military has confirmed it is the missing soldier and the date of the video.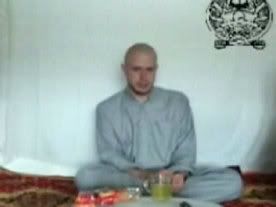 The video includes a type of interview or interrogation of sorts.
The
AP
writes
Asked how he is doing, the soldier says: "Well, I'm scared, scared I won't be able to go home. It is very unnerving to be a prisoner."

He begins to answer questions in a matter-of-fact voice. He later chokes up when discussing his family and his hope to marry his girlfriend.

"I have a very, very good family that I love back home in America," he says. "And I miss them every day when I'm gone."

Prompted by his interrogators to give a message to the American people, he says in part: "Please, please bring us home so that we can be back where we belong and not over here, wasting our time and our lives and our precious life that we could be using back in our own country."
It's impossible to imagine how afraid this brave man is or what he's experienced at the hands of his captors. For now, he and his family should be in our prayers as we hope to see him home soon.
Update:
Watch the video here.