This evening Ted Kennedy lost his battle with brain cancer. The loss of any public figure is often met with mixed response, and I'm sure Sen. Kennedy's passing will be no different.
Via
ABC News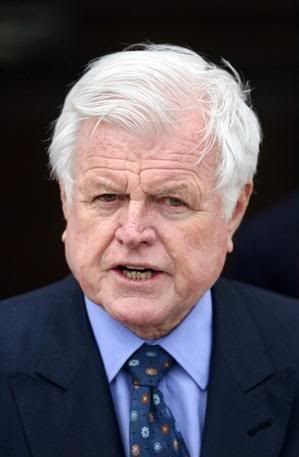 Sen. Ted Kennedy died shortly before midnight Tuesday at his home in Hyannis Port, Mass., at age 77.

The man known as the "liberal lion of the Senate" had fought a more than year-long battle with brain cancer, and according to his son had lived longer with the disease than his doctors expected him to.

"We've lost the irreplaceable center of our family and joyous light in our lives, but the inspiration of his faith, optimism, and perseverance will live on in our hearts forever," the Kennedy family said in a statement. "He loved this country and devoted his life to serving it."

Sen. Edward Moore Kennedy, the youngest Kennedy brother who was left to head the family's political dynasty after his brothers President John F. Kennedy and Sen. Robert F. Kennedy were assassinated.

Kennedy championed health care reform, working wages and equal rights in his storied career. In August, he was awarded the Presidential Medal of Freedom -- the nation's highest civilian honor -- by President Obama. His daughter, Kara Kennedy, accepted the award on his behalf.
No doubt his life will be recounted in the media as that of a "great man." And no doubt his death will be leveraged by the democratic party in the health care debate. And instinctively I'm all for meeting them on their terms and describing what a despicable partisan hack he was, I must force restraint.
Criticism of Kennedy's past decisions and ideological bludgeoning will come in due time. Now it is appropriate for all Americans to pause, say a prayer for the Kennedy family and respect the passing of this public figure.