Millions of freedom-loving people gathered nationwide today to voice their opposition to the increasing government interference into their lives. While
the numbers are still debated
, there is little doubt today's tea parties involved a significant number of people.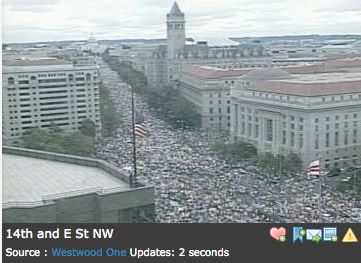 (Via
Michelle
)
Personally, I attended the rally in Ft. Worth, Texas and we had a great turn out. My armature estimate would guess in the range of 4,000 people. Granted it could be more or less, but it was a great group of people for sure.
I'll get some pictures
and videos up later. I'm going to try and include the video of the featured guest Judge Andrew Napolitano, Fox News' senior judicial analyst.
Anyway stay strong. You will be attacked over the next few days about being old, rich, white racists. When the other side throws their false
ad hominem
attacks at you, remember they are firing from a position of weakness. I say bring it on. In the end the side of liberty will win out.